Students > Actions > Quick Letter Students > Select a Student > View
A new option Quick Letter has been added to the Actions dropdown list for Students and to the Student Details page. When selecting this option a Template can be selected from the Quick Letter dropdown list. When completed a PDF will be produced which can be saved to the Document section and the content will be displayed in the Communication Log of the Student Details page, published to MCAS and sent to e-mail Recipients where possible. New Templates are added by changing the Quick Letter Templates dropdown to Not Selected and clicking the + icon to the right. Selecting the Preview button will preview the Letter to check then changes can be made made before selecting the Process button.
Note: If sent by email and the Recipient does not have an email address a letter will be produced if the Recipient is from a different household. The email will include an attachment of the letter and the email text will say please see attached letter.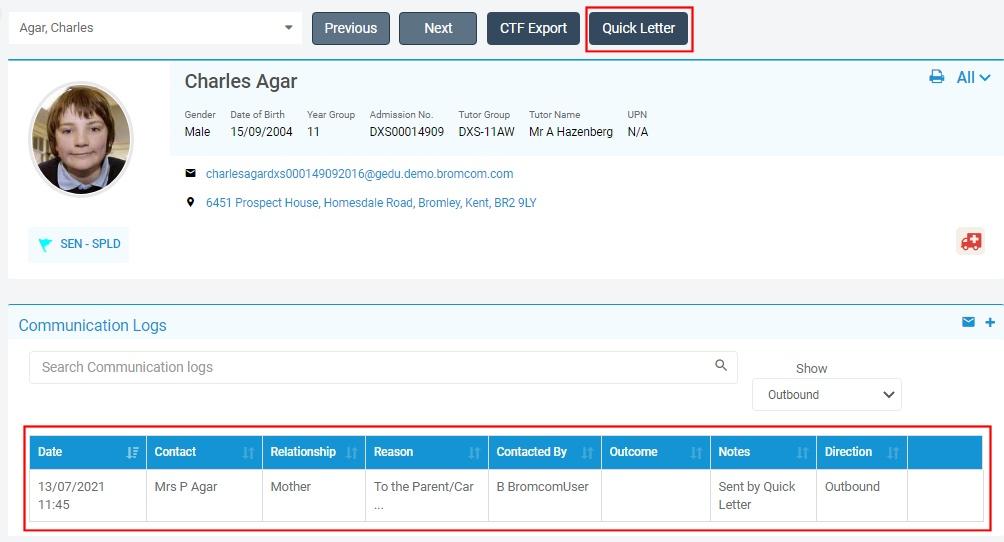 Config > Setup > Roles & Permissions > Framework
You will need Permission to use the Quick Letter - Manage Templates option. By default the Permission will be given to all users who currently have the Framework, Send New Message Permission.